I am very excited to announce A NEW SPONSOR and a GIVEAWAY: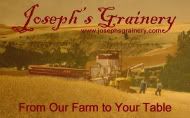 Anyone who have been following me for a while, knows that I am a whole wheat fanatic. I love baking with whole grains. Well, I love baking PERIOD. But if I am going to bake stuff, I figure I better make them as healthy as a goody can be. FINALLY!!!! I am have found a place with as much Whole Grain Obsession as ME!!!!
With that said, Momma Chef's new sponsor is this awesome family farm business called Joseph's Grainery:
Joseph's Grainery is a family owned and operated business. Farming quality wheat, barley and lentils has been a family tradition for 5 generations now. Our family has farmed land outside of Colfax, Washington for over 70 years. The heritage of the land encompasses good stewardship and farming practices that ensure soil quality and longevity, as well as maintaining superior nutrient content in the whole grains and lentils we produce.

We take great care in the growing, cleaning, storage and packaging of our grains. Our grains can be used to make breads, pastries, breakfast cereals, soups, stews and more.
Check out our Recipes section for tasty ways to use our grains and lentils!
AND.....
Little Joe (who I think is the real brains behind this business) has decided to give
ONE lucky reader a bag of their special
Whole Grain Cookie Mix!
Please leave a comment for
each entry
. Giveaway open to US and Canadian Residents only. Giveaway open until Nov 21st at noon. A winner will then be selected by random and announced later that afternoon!
Here's what you need to do to win:
1) Be a follower of Best of Momma Chef (I will check!)
3) Pick your favorite Momma Chef recipe that uses WHOLE WHEAT and tell me!!!
Now go SHOP and check out their cute holiday packs! Lil Joe will be sure to inspect every order for deliciousness and accuracy!